The Kindle Fire vs Nook Tablet vs Ipad2 vs Nook Color FIGHT!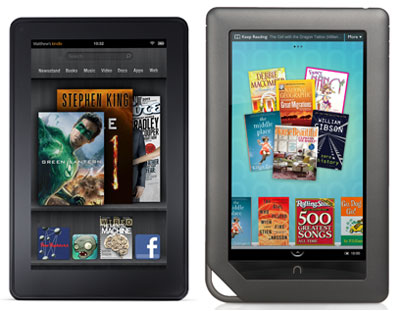 Every Kindle Fire vs Nook Color comparison pits the top two competing tablets with ereader roots against each other.
Since the Kindle Fire's  release on November 15th, there have been tons and tons of comparisons. This one will give you a chart so you can easily see the difference naming kindle fire the obvious choice for anyone thinking to do some serious ereading and app buying. I have used them both and happen to like the kindle fire a little bit better. You can purchase your Kindle fire today by following this Kindle fire link to the amazon store.
FIGHT!
Kindle Fire vs Nook Color – Specs
| | Kindle Fire | Nook Color |
| --- | --- | --- |
| | | |
| Screen | 7″ IPS Vibrant Color, 16 million colors | 7″ IPS LG VividView, 16 million colors |
| Resolution | 1024 x 600 | 1024 x 600 |
| Processor | 1GHz dual-core TI OMAP4 processor | 800MHz ARM Cortex A8, 1.2GHz with overclock hack |
| Operating System | Android 2.3 | Android 2.2, others with root, ROMs |
| Storage | 8GB, cloud storage, no memory card slot | 8GB, microSD memory card slot for cards up to 32GB |
| Memory | 512 MB RAM | 512MB RAM |
| Apps | Amazon's Appstore 16K+ | Nook Apps 750+ |
| Camera | No | No |
| Input/Output | USB 2.0 (micro-B connector), 3.5mm headphone jack, stereo speakers | B&N mini USB, 3.5mm headphone jack, 1 speaker |
| Audio and Video Support | Yes | Yes |
| Wireless | WiFi | WiFi |
| Battery | 7-8 hours | 7-8 hours |
| Weight | 14.6 oz | 15.8 oz |
| Size | 7.5″ x 4.7″ x 0.45″ | 8.1″ x 5″ x 0.48″ |
| MSRP | $199 at Amazon | $249 new, $179 refurb at B&N |
It's surprising just how similar the Kindle Fire and Nook Color are, especially since the Nook Color will be 1 year old when the Kindle Fire is released. While similar, each device has its own advantages over the other.
Kindle Fire Advantages
Faster processor
Lower Price
More apps (stock)
Amazon's appstore gives away a free paid app each day, lots of games
Stereo speakers
Amazon Whispersync
Cloud storage
Amazon Silk web browser
Free Month of Amazon Prime
Lighter (1.2 ounces)
Nook Color Advantages
MicroSD card slot (major advantage)
Full Android tablet with ROMs and N2A cards while still preserving the Nook's stock functionality
Active hacking community, lots of mods
Refurbished units sometimes drop to $149 or less
Access to Barnes and Noble's in-store exclusive content.
Read ebooks for free while visiting B&N stores with B&N's Read In Store feature (up to an hour per day).
Below is the Kindle Fire vs Apple iPad2 vs Barnes and Noble Nook Tablet
Kindle Fire vs iPad 2
As you can see from the basic specs above, the Kindle Fire and the Nook Tablet are direct competitors to each other and it will be interesting to see which tablet comes out ahead. My preference right now would still be for a Kindle Fire because it's the least expensive while still offering a huge number of features, plus the awesome selection of movies and TV shows that come with an Amazon Prime membership (you get a free month with your Fire too). As always, we'll keep this review updated as more information becomes available. For now, let's compare the Kindle Fire and the Ipad 2:
The Kindle Fire clearly does not have as many features as the iPad 2, but the question really becomes: "Are the extra features of the iPad 2 worth $300+?" The answer for many people is going to be, "No." Let's look at the basic $500 version of the iPad 2. Going straight down the feature list in the table above, the obvious standout is the huge price difference. Apple has long charged a premium for their products above and beyond what competing companies charge for similarly spec'd tablet PCs. This is nothing new. So the price is a huge difference in favor of the Kindle Fire.
Content Source and App Stores Compared
Next, consider the content source and the Apps stores. Amazon has just about every form of content available, and the prices are always either extremely competitive or better than iTunes. So score one for their store. However, the Apps section is a different animal. Apple has long dominated here with a huge selection of Apps and this is clearly a check-mark in their favor. However, assuming Amazon does as well with the Kindle Fire as they expect to, I wouldn't be surprised if the available number of Apps grows by a huge amount in 2012. Until then, there are already thousands available and probably more than anyone could ever need.
Screen Size and Resolution
iPad 2 wins in the screen size department, but loses in the clarity department. The number of DPI generally has a great effect on the clarity of text and graphics on screen (particularly text), and so a higher DPI means it will be easier to read the screen of the Kindle Fire.
Size and Weight
Here again, the Kindle Fire has an advantage in that it's more easily portable and much lighter.
Capacity and Storage
The iPad is the clear winner here. If you want to have a lot of video on your tablet PC, then the iPad can accommodate more. The way that Amazon plans to help to offset this is by virtually unlimited Cloud storage, which is basically storing your files on their hard drives and then being able to access that data on any computer with an Internet connection. Apple plans to roll out a similar service in the coming weeks as well.
Camera
The last thing worth mentioning is the lack of camera on the Kindle Fire. This may or may not be an issue for most people since we all have cell phone cameras these days that can upload instantly, but if you need a camera attached to your computer all the time for some reason, the Kindle lacks that.
| click the imagefor more info!! | Amazon Kindle Fire | Apple iPad 2 | B&N Nook Tablet |
| --- | --- | --- | --- |
| Price | $199 | $499-829 | $249 |
| Content Source | Amazon | iTunes | Barnes and Noble |
| App Store | Amazon App Store & Android Apps | iOS App Store | Nook Apps |
| Apps Available | 15,000+ | 90,000+ for iPad | 700+ |
| Screen Size (inches) | 7 | 9.7 | 7 |
| Screen Resolution | 1,024×600 | 1,024×768 | 1,024×600 |
| Screen Pixels Per Inch | 169 | 132 | 169 |
| Size (inches) | 7.5 x 4.7 x .45 | 9.5 x 7.31 x .34 | 8.1 x 5.0 x .48 |
| Weight | 14.6 ounces | 21.28 ounces | 14.1 ounces |
| OS | Custom Android | iOS | Android 2.2 |
| Capacity | 8GB | 16-64GB | 16GB |
| Expandable Storage | No | No | Yes (up to 32GB micro SD cards) |
| 3G | No | Optional | No |
| Wi-Fi | 802.11 b/g/n | 802.11 b/g/n | 802.11 b/g/n |
| Processor | Dual-core TI OMAP 4 | Dual-core A5 | Dual-core TI OMAP4 |
| Camera | No | Front and Rear | No |
| GPS | No | On 3G Models | No |
| Browser | Amazon Silk | Mobile Safari | Customized Android |
| Battery Life | 8 hours | 7.5 hours | 9 hours |
Share and Enjoy